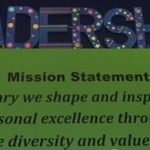 Welcome to Lou Henry Elementary School, the home of the Little Hawks.  Lou Henry Elementary opened in 2005 and was named after former First Lady of the United States, Lou Henry Hoover. The First Lady was born in Waterloo in 1874 and called it home during the early years of her life.  She was known for her volunteerism and served as a role model for young ladies throughout the United States.  She was the first woman in America to graduate with a degree in Geology.  She is best known for her work with the Girl Scouts of America having served as the president of the organization and as a member of the board of directors.
We are proud to serve a school community of nearly 500 students.  Our students come to us from all walks of life and from all over the world.  We serve students and families from nearly 20 different native languages and from nearly 20 different countries throughout the world.  We take great pride in the diversity of our school community, and are blessed to see our students benefit from that rich diversity.
Lou Henry is a Leader In Me school.  Leader In Me is built around 5 Core Paradigms.
 Everyone can be a leader.
Everyone has genius.
Change starts with me.
Educators empower students to lead their own learning.
Develop the whole person.
At Lou Henry we shape and inspire leaders.
Our team fosters personal excellence through high expectations.
We celebrate diversity and value individuality.
Lou Henry Little Hawks Pledge
We are Lou Henry Leaders.
We will SOAR!
We will be safe, on task, act responsibly,
and be respectful.
We will S–O–A–R
      SOAR!
Little Hawks SOAR!