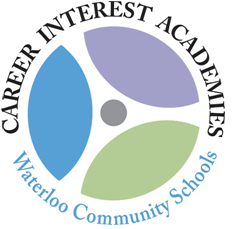 Career Interest Academies The Waterloo School Community commits to a comprehensive system of education and support to ensure that each and every student will graduate ready for: college, career, and citizenship as evidenced by continuing education, pursuing a career path, and contributing to a community.
To help prepare students for the real world, East and West High Schools are organized into Career Interest Academies.  Career Interest Academies are small learning communities of 300-400 students taking curriculum courses with a career theme.  Partnerships with employers, the community, and higher education are incorporated to provide work-based learning opportunities.  The Academies are: Arts, Communication, Business– Engineering, Technology, Manufacturing–Health and Human Services.
These smaller learning communities  integrate academic and career themed instruction to enhance real-world relevance and maintain high academic standards.  Parents and counselors help students select their area of interest to pursue.  Students can remain together for four years with an administrator and guidance counselor, but they are able to change academies at semester if they wish.