Highland Partners in Education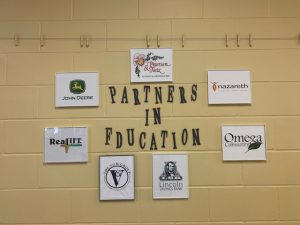 The following businesses/organizations are Highland's Partners-in-Education:
Nazareth Evangelical Lutheran Church
Breath of Life Foursquare Church
John Deere Waterloo Operations T.C.A.O.
Lincoln Savings Bank
Omega Cabinetry
Petersen and Tietz Florists and Greenhouses
VGM
How do our Partners in Education support Highland?  Take a look! 
PAWS 4 You monthly staff recognitions
Sewing face masks for students
Purchasing needed school supplies
Donating dress code clothing for students
Adopt a Family
Pen Pals
Winter Break books to all students
Due to COVID, many of the amazing things our partners do for us have had to be put on pause.  Here are the ways they have supported us in the past that we look forward to continuing in the future!
Monthly Student of the Month lunches
Dinner for teachers during conferences
Fall Festival
Volunteer at family nights
Reading Buddies
Classroom Guest Readers