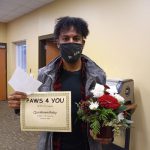 Each month, the Highland staff nominates other staff members for the PAWS 4 You award.  Staff are nominated for any way they have gone above and beyond for the Highland family (students, staff, and/or families).  One or two winners are selected from these nominations and receive a beautiful floral arrangement donated to us from our partners, Petersen and Tietz Florists and Greenhouses.  
*Congratulations and thank you to March's PAWS 4 You winners, Lynette Risse (PreK Instructional Assistant) and Carrie Kammeyer (Lead Teacher).*
Lynette Risse
Lynette works so hard for our team. Not only does she do all the laundry for the PreK team, but she has also helped out our team by purchasing items for the classroom prize box. Kids are highly motivated by these items. Her efforts have greatly helped re-enforce positive classroom behaviors.
Carrie Kammeyer
Thank you so much for all the time and effort you put into making ISASP week run so smoothly! We appreciate your organization of all the yummy snacks and prizes purchased for the students to help keep them engaged and motivated! You go above and beyond to help make sure that all of our questions are answered and that we have all the information needed to successfully administer ISASP tests for all students. Thanks for supporting the staff and the students-we appreciate and value you!!
*Congratulations and thank you to March's PAWS 4 You winners, Daryl Matthews (BIS Instructional Assistant) and Madison Steele (4th grade teacher).*
Daryl Matthews
When he was in my room for intervention groups, he never hesitated to jump in and help! He always has a smile on his face and a positive attitude! It definitely rubs off on anyone he is around! Thank you Mr. Matthews for everything you do here at Highland, it doesn't go unnoticed 🙂
Madison Steele
She can be a teacher and friend with her students at the same time. She makes learning fun for "her children" as well. She has patience to teach and reteach if some of them do not understand and will even work one on one. She is a fun, loving teacher and I love working for her!
*Congratulations and thank you to February's PAWS 4 You winners, Sarah Lyons (Music) and Julie Krusemark (Instructional Assistant).*
Sarah Lyons
Thank you so much for be so willing to take your classroom on the road for all our students. Our students always looked forward to music day because they knew you would be bringing a smile and some fun. Thanks for being so flexible and taking on this year's challenge with a positive attitude!! 🙂
Julie Krusemark
Julie and I hadn't worked together until this year. She has been incredibly flexible, both as changes have occurred throughout the year and dealing with me being gone an extended period of time. Julie had never worked in a small setting but she has done a great job absorbing new information, taking the initiative to develop activities to use with the students and in working 1:1 or in small groups with students. She has also worked hard to develop relationships with the students in our room, which is very important with what we do. I appreciate her flexibility and cheerfulness very much. Thanks for everything you do, Julie.
*Congratulations and thank you to January's PAWS 4 You winners,
Brenna Herrmann
(3rd Grade teacher) and
Eric Jesse
(Behavior Interventionist).*
Eric Jesse
Eric has stepped in and helped out in so many ways this school year. He has subbed in many classrooms. He was willing to help and sub at Hoover Middle School when they were short staffed. Eric has been so wonderful to have taken over my recess duty since I injured my foot. He does not complain about having extra duties and the students absolutely love having him on the playground. He can kick those balls high! I love to see his interaction with the students in the hallways. He has a warm smile, a gentle hug and a listening ear. You can often see him taking time out to check in on students who need a little extra love and attention. You could probably label him as a gentle giant. He has helped our classroom with a few of our kids when they need short breaks or a quiet place to relax and or release some of their extra energy. We are blessed to have Eric as part of our staff and I am lucky to call him my friend.
Brenna Herrmann
Brenna is a very positive and friendly coworker. She is always willing to help out her team. She cares a lot for her students, and it shows! I am so thankful to share materials with Brenna, and she is always so helpful in making sure I always have what I need. Brenna is a great addition to the Highland team! -Miranda Lockwood
*Congratulations and thank you to December's PAWS 4 You winners, Maggie Bemis (First Grade Instructional Strategist) and Queshawn Roby (BIS Instructional Assistant).*
Maggie Bemis: "Maggie is a dedicated teacher, who always puts the needs of her students first.  She welcomed virtual students back into the classroom like they had always been there.   Highland is lucky to have her teaching here!" "Maggie has been a great support person as I transition into the classroom. She has been available for me to ask any questions and is more than willing to do what I need. She has a lot on her plate already this school year, but has not let that impact her helping me. Big thank you to her!"  "Maggie has taken on second grade IEP students when she already has a first grade work load. Maggie is always putting the students' needs first and always thinking about what is best. She has been awesome to work with with my student as she is knowledgeable and helpful. She is also very supportive. Thank you for working with me and my student, Maggie!!!"
Queshawn Roby:  "Roby has been working with students across all grade levels.  He has been checking in with students in the morning, throughout their day and at the end of the day.  Mr. Roby has been a vital part of doing what is best for some of our tougher kiddos.  Thank you Q for being willing to take on this task.  We are lucky to have you as part of our Highland family."  "He does so much beyond his job title.  He meets with several students individually to help them out and also takes groups of students and works with them.  He doesn't have to do all that he does but he does it without reserve."  "Out of the goodness of his heart, Mr. Roby has stepped in to help with some of my students. He checks in with those students a couple times a day. He has rewarded them with special play breaks at the end of the day when they have a good day. He is going above and beyond to do this for these students. It is not part of his regular job. I truly appreciate his help and am grateful to him. It has helped our class!"
*Congratulations and thank you to November's PAWS 4 You winners, Megan Lensing (kindergarten teacher) and Scott Robinson (head custodian).*
"Megan is SO good about helping me (and others on our team) with technology! She does it in such a kind manner, too. She says things like, "I got your back, Brown!" It feels really good to know I can always go to her for help and she will not make me feel dumb, or like I am a burden. She is just happy to help by teaching me how to do new things, which there are a lot of this year.  I also appreciate how Megan is smart, kind, patient, calm, fun, and pleasant in general. I am so glad she is on our team. She is a great teammate!"
"Megan always keeps a positive mindset even on tough days in the classroom. She does what is best for our students and is always looking for ways she can grow as a teacher. I am very lucky to co-teach with such an awesome person!"
"Scott does an awesome job working at Highland!! Whenever I ask him to do something for the classroom, he is on it right away and gets it done! Not only that but the students love to goof around with him when they see him."